By Deedee Myers, PhD, MSc, PCC
Strategic planning from a human resources perspective is gaining momentum in organizations that aspire to be sustainable. With Baby Boomers retiring and Millennials stepping into significant leadership roles, there needs to be a new level and quality of attention paid to this phenomenon.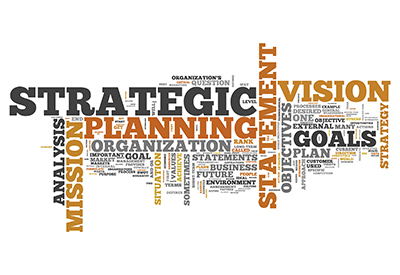 Meaningful and positively provocative employee engagement in the organization vision and mission increases ease in the workplace, decreases stress, and creates an environment of relevant action and outcomes. Strategic planning, often seen as a couple of days of semi-fun off-site, is now seen as the place to come together in a mutual commitment for the sake of our customers, employees, and community.
Approach to strategic planning
Strategy development begins by identifying where the organization is today, determining the desired future state, and defining initiatives to leverage new opportunities that will connect today to our future.
Below are some tips to consider when using the strategic planning approach—which exists within a framework specifically designed to uncover emergent opportunities that are unique to each organization, team, and individual.
Strategic thinking framework
DDJ Myers has researched several models, some of which have been available since the 1930s, to help organizations perform strategic planning. There is a need for a strategic thinking framework and approach that quickly and smoothly guides an organization through this complex process while engaging the whole system of functions and stakeholders responsible for operating the plan.
Most of the approaches that were uncovered in the research had a linear framework that did not resonate well with the people aspect of the focus at DDJ Myers. Humans are not linear in thought and action. If such an environment is imposed, humans tend to contract and withdraw rather than expand, innovate, and be creative in problem solving and opportunity seeking.
Two researched approaches, SWOT and SOAR, are highlighted in this article.
SWOT
SWOT (strengths, weaknesses, opportunities, and threats) analysis is a well-known traditional strategic planning process. The SWOT methodology was developed over 1,000 years ago to support military operations.
Its design is structured so that half of strategic planning time is spent on positive aspects (strengths and opportunities), and the other half is spent on negative aspects (weaknesses and threats).
Strengths: What this department or organization does best.
Weaknesses: Areas that need improvement.
Opportunities: Existing or potentially emerging opportunities that might be used to improve the position of your department or organization.
Threats: Conditions that might undermine your success
SWOT was used well in the recession to highlight the immediate operational areas that needed to be triaged, contracted, or reframed. Unfortunately, due to the human tendency to dwell on what is wrong, most of the time is spent on the weaknesses and threats.
The conversation on opportunities tends to focus on what the external industry might offer rather than what can be self-generated. The outcome is that participants leave with strategic initiatives to remedy issues affecting current operations rather than building for the future by creating new and relevant strategic opportunities and incentives.
Appreciative inquiry theory
In contrast, another approach, based upon appreciative inquiry (AI) theory, engages stakeholders to identify clearly, understand, and—most importantly—communicate and take effective action.
The outcomes should enhance individual and organizational values, provide direction and purpose, establish core and unique capabilities, identify and leverage strategic opportunities, and help form structures and systems to create a positive organizational environment that enhances and sustains the organization's unique value offering.
The AI approach allows an organization to:
Know what happens when the organization works at its best
Build on its strengths (the positive core)
Discover emerging opportunities from the current base of business
Visualize goals and strategic alternatives
Identify enabling objectives
Design strategies and tactics to integrate with the organization's most successful programs
Implement a dynamic, continuous, and living strategic plan
Practice capacity building in the organization
Create an image and actions to work toward the best possible future
SOAR
The SOAR (strengths, opportunities, aspirations, and results) framework of the strategic planning process includes:
Strengths: Provocative questions and conversations bring to mind what we believe about individual, team, and organizational strengths regarding execution and accountability. In preplanning, qualitative (anecdotal), and quantitative data are used to support this conversation.
Opportunities: Leveraging strengths, we establish what opportunities exist based on external and internal environmental factors.
Aspirations: In small and large group discussions, we engage in conversations about the organization's deep passions and how our unique individual aspirations align with the organization's need for the strategic implementation of plans.
Results: We discuss how to measure success on behalf of our stakeholders and how we determine the correct actions. We also validate how the organization leverages strengths, aspirations, and opportunities for the sake of the members and in order to deliver its strategy.
The focus is on future outcomes and on the actions that will produce these results. The facilitator uses a blend of individual, partner, triad, and large-group work to ensure that every voice is heard and that the outcomes generated are meaningful.
Role of the HR executive in strategic planning
Millennials want to make a difference; they enjoy being engaged at work, and they look for opportunities to be of service. The Baby Boomers have inherent wisdom and knowledge about the industry and organization. The HR executive charter is to support and develop the most valued asset—the people.
The AI approach to strategic planning brings forward diverse organization populations in a systematic and systemic approach to sustainability and creates a common commitment and focused energy in the organization.
The HR executive needs to sit at the strategic planning table to add value through people development and deployment opportunities. Do your research in advance and come prepared to offer creative ideas. Research hiring trends, industry opportunities, reward philosophies, development programs, and much more. No strategic planning event should happen without the HR executive.
The AI approach is an innovation disrupter and produces a whole new way of thinking. Seek out a subject matter expert on how to get started and learn this new way of thinking and being within an organization. Start using the language of opportunity today and notice the immediate difference in your team.
Join Myers—on April 5, 2016—as she presents, Strategic Planning for HR: How to Utilize SWOT and SOAR to Ensure Long-Term Business Success. Register today!
Deedee Myers is founder and CEO of DDJ Myers, Ltd. and cofounder of the Advancing Leadership Institute. For the past 20 years, she has been passionate about establishing and developing humans to thrive in any economic environment. During the past several years her succession planning and leadership development offer has been highly regarded in as both innovative and best practices.

Through the Advancing Leadership Institute Myers works with executives and managers so they live in their potential and, in doing so, show up as a more valuable offer to their organization and community. Myers also leads a thriving recruitment practice, started in 1989 with emphasis on market risk management and asset/liability management supports. For more information, contact Deedee Myers at (800) 574 88777 ext. 101 or email atdeedeemyers@ddjmyers.com.