The Randstad Manufacturing & Logistics Employee Confidence Index (ECI) rose from 55.9 at year-end 2014 to 60.8 points in mid-year 2015, representing an increase of 4.9 points. This is the second straight wave of growth in the ECI among this group, which was 53.3 one year ago.
The online survey, conducted by Harris Poll among manufacturing and logistics workers on behalf of Randstad US, measures workers' perceptions regarding the overall strength of the economy, availability of jobs, and personal employment prospects. Randstad's mid-year 2015 findings indicate confidence levels among workers in this sector continue to trend upward.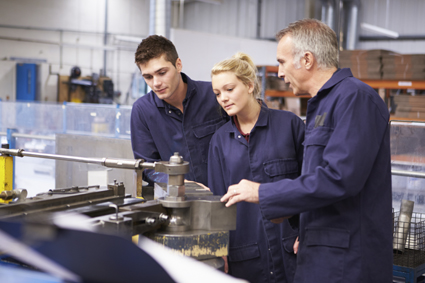 The mid-year report found 38% of manufacturing workers believe the economy is getting stronger, and 37% say they believe there are more jobs available. As confidence in the overall state of the economy and availability of jobs continues to rise, our findings indicate workers' personal confidence levels are also rising—in fact, 63% of workers say it is unlikely they will lose their jobs involuntarily over the next 12 months, but 38% say it is likely they will look for another job.
Several macro trends are fueling growth within U.S. Smart Manufacturing, and other technological developments are drastically changing the way plants operate. The CSC Global CIO Survey: 2014-2015 found % of manufacturers feel big data has a positive effect on production and efficiency, and 65% believe big data will be a strategic business driver moving forward. Furthermore, lower costs associated with reshoring are driving more local manufacturing activity, and capital investments are rising.
However, despite significant growth drivers, hiring activity within the manufacturing sector has been fairly slow thus far in 2015. According to the latest Bureau of Labor Statistics' employment summary, manufacturing employment edged up only slightly in July by adding 15,000 new jobs due to an increase of 23,000 jobs in nondurable goods.
"Many experts predicted 2015 would bring robust growth and expansion for the manufacturing sector, and so far that appears to be the case," said Traci Fiatte, Group President, Randstad US. "We're witnessing a growing supply of natural gas in the U.S., which provides more affordable energy for factories and new opportunities for products and services. In fact, PricewaterhouseCoopers estimates that high shale gas recovery and low prices could add one million U.S. manufacturing jobs and reduce natural gas costs by up to $11.6 billion annually through 2025.
"While we haven't seen an aggressive rise in hiring activity thus far in 2015, we believe it's imminent. Our mid-year 2015 survey indicates confidence levels among manufacturing workers continue to rise and they are becoming increasingly more confident in the economy, availability of jobs, as well as their personal employment situations."
2015 Mid-year Report Highlights:
Workers' confidence in the economy shows steady growth
Nearly four in 10 (38%) workers believe the economy is getting stronger.
Workers believe there are more jobs available
Nearly four in 10 (37%) workers believe there are more jobs available.
Workers are confident in ability to find a new job
Half of workers (50%) say they are confident in their ability to find a job.